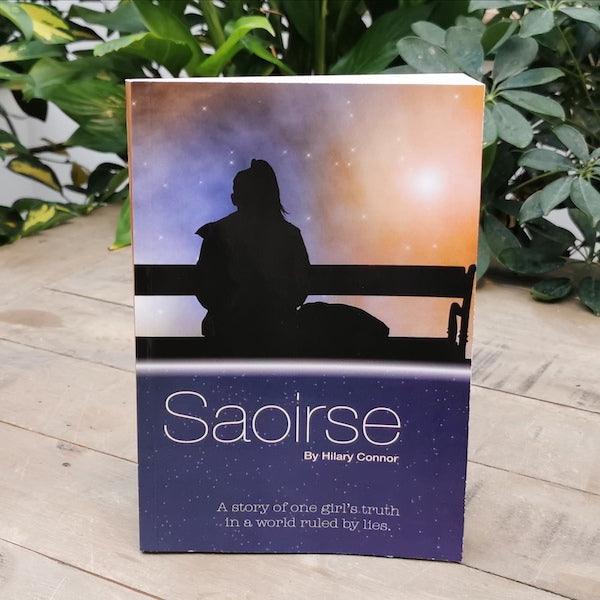 Saoirse
Paperback: 305 pages
by Hilary Connor
As a child Saoirse Corcoran was rejected. As an adult she is sought out by strangers. The reason for both is the same - her power.
Born in the mid-sixties to a mother who desperately wanted to keep her but couldn't, put in an institutional crib and situation, she is visited by a guiding force who she will come to know in future days, who protects a baby born to survive inhuman treatment in a staunch Catholic society, and to change it with the strength of her life experience.
Saoirse's mother Maisie, sleeps in a different part of St. Patrick's Mother and Baby Home, sharing a collective sorrow that will haunt and mark Ireland's social history. Saoirse is set apart from the beginning - marked with a psychic gift which serves as her greatest ally and strength against coming judgement and condemnation.
When Lil and Joe Corcoran adopt her, she is four months old with and ancient soul. There is the hope of happy ever after. At first, their love is unconditional, but then the deeper aspect of her nature triggers their great fear. They reject her abilities, forcing her back into another convent, run by St. Agnes, who sees and treats Saoirse as evil.
Saoirse holds onto the truth that love is the only property to heal an emotionally enslaved, repressed Ireland.
Her friendships give her hope. Her family become her greatest teachers.
The search for her identity centres on her first shared sorrow, separated only by walls, a mother and her child who felt each other's presence. On a harrowing journey, Saoirse is drawn to the deepest bond of all which is still a mystery. She moves to re-unite, to find out who Maisie was and finds out more than who her mother was.
She discovers what she knew all along, from the moment she was born. Her gift came from somewhere unknown and now returns to claim its source. She learns the name and nature of the presence that guarded her lonely crib.